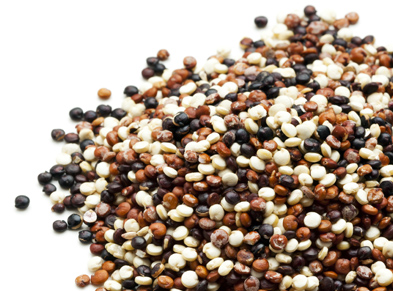 Quinoa is an amino acid-rich (protein) seed that has a fluffy, creamy, slightly crunchy texture and a somewhat nutty flavor when cooked.
Directions
– Rinse quinoa.
– Bring vegetable broth and quinoa to a boil.
– Cover, reduce heat and simmer for 20 minutes.
– Remove from heat and let stand 5 minutes. Fluff with a fork. Set aside.
– Over medium heat, fry onion, zucchini and squash in coconut oil until onions are translucent and vegetables are cooked.
– Combine onion, zucchini, squash and quinoa.
– Stir in cranberries, parsley and green onions.
– Season with Herbamare and pepper.