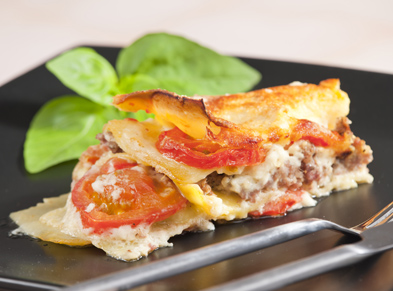 An interesting spin on traditional lasagna, the great taste of turkey is also a healthy alternative to traditional red meat. A four ounce serving provides 65.1% of the daily value for protein, along with 11.9% of the daily value for saturated fat, about half the amount of saturated fat found in red meat.
Directions
– Preheat oven 325°F.
– Cut zucchini & squash lengthwise into 1/2 inch slices.
– Slice pepper into wide pieces.
– Broil red pepper in oven until skin blisters, approx. 5 min. Place in plastic bag, let stand for 5 minutes to sweat, then peel.
– Grill zucchini and squash. Let stand until cool, and then pour off excess liquid.
– Sauté ground turkey in skillet with garlic, 1/2 tsp each salt and pepper.
– Heat tomato sauce in sauté pan. Add spices and remaining salt & pepper.
– Place a small amount of sauce on bottom of Pyrex lasagna pan.
– Layer zucchini, red pepper and turkey.
– Spoon sauce liberally over top, and then follow by 1/2 mozzarella and parmesan.
– Top with butternut squash. Repeat.
– Top with mozzarella and parmesan.
– Bake for 20 – 25 minutes, until cheese is melted and bubbling.
– Let stand 5 – 10 minutes before serving.
Serves 6