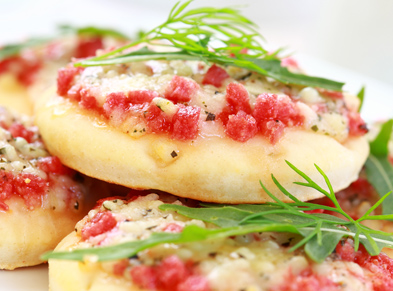 If you are allergic to products that contain lactose or milk proteins, you no longer have to avoid pizza! Choices Chef, Antonio Cerullo, created this recipe just for you. If you're the type that loves to go outdoors and enjoy the sunshine, you have the perfect companion. Buon appetito!
Directions
1. Preheat oven to 425 degrees and set aside Naan breads or pitas on a cookie sheet.
2. In a bowl, combine all other ingredients except cheese. Feel free to be creative and add other toppings.
3. Spread the mixture equally over Naan breads or pitas and sprinkle cheese on top.
4. Bake for 10 minutes or until cheese is golden and bubbling.
* Remember, if you are cooking for a dairy-free diet check all ingredients on cheese substitutes and on bread base – not all are 100% dairy-free. Some may contain milk ingredients such as casein.
Yields 4 pizzas