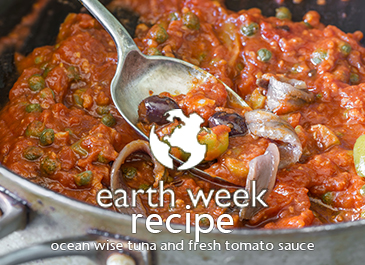 Directions
It's not as common to have seafood with a tomato-based pasta sauce. But it
definitely works here. The addition of white wine really brings out the flavour of
the tuna, and the capers add a welcome zestiness to the dish.
1. Over medium, heat 4 tablespoons of olive oil in a large frying pan and
brown celery, onion and garlic. Add the tuna and continue cooking.
2. Quarter the tomatoes and scoop out the insides with the seeds. Roughly chop
the juicy seed part and add it to the tuna mixture. While that's cooking,
dice the rest of the tomatoes and set aside.
3. Mix the capers and lemon juice into the tuna mixture.
4. Pour in the white wine a bit at a time, letting it cook off each time. Once all
of the wine is used up, check seasoning and add salt and pepper if necessary.
5. Just before taking the sauce off the heat, finish it by adding the remaining
4 tablespoons of olive oil, fresh parsley and remaining chopped tomatoes.
Toss the cooked pasta in the sauce and serve immediately.
SERVES 6
Try other stock recipes from chef Antonio: