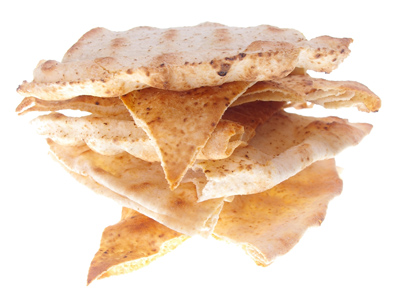 This decorative appetizer will create a festive buzz around any holiday feast!
Directions
1. Brush pitas with Red Pepper Spread.
2. Cut each pita into 6 wedges and place on baking sheet.
3. Bake in preheated 375° F oven for 8 – 12 minutes or until pitas start to become crisp. Do not over crisp, as they will be returning to the oven again.
4. Remove from oven and allow to cool.
5. Allow goat cheese to reach room temperature.
6. Spread the goat cheese on each wedge to one inch from the round edge.
7. To each wedge add a thin slice of Brie – with the rind, on top of the goat cheese.
8. On a greased baking sheet, place each cheese section over top of the previous,
with the points of the wedges pointing out, forming a pointsettia. Bake for 10 minutes at 350°F or until cheese starts to melt.
9. Place each poinsetta on a plate and drizzle each with 1/2 tsp of the two oils.
10. Add a touch of freshly ground pepper. Garnish with your favorite fresh green herbs,
parsley, basil, thyme, chives or chervil etc. Buon Appetitto & Happy Holidays!!