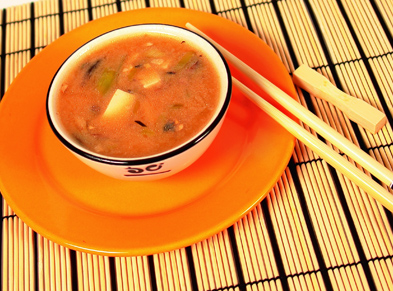 The salty taste and buttery texture of miso, a fermented soybean paste originating in Japan, is becoming increasingly popular in the West as a versatile condiment for soups.
Directions
– Put the ginger, garlic and onion in a large soup pot with the broth and cayenne.
– Bring to a boil then cover, lower the heat and let simmer for 30 minutes.
– While the broth is simmering, sauté tofu in 1 Tbsp hot sesame oil until crispy on all sides.
– When the broth is ready, add tofu, peas and mushrooms and return to a boil.
– Take a ladle of broth and mix with miso in a small bowl until smooth. Add miso to soup.
– Take the soup off the heat and add egg in a thin stream while stirring.
– Stir in the remaining hot sesame oil, vinegar and tamari.
Serve hot.