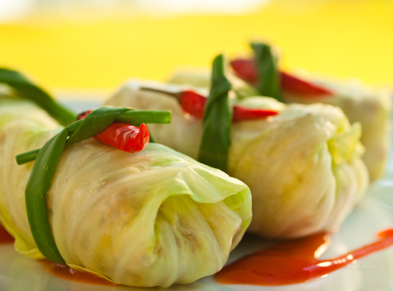 Cabbage is one of the healthiest foods, containing a high level of Vitamin C, chlorophyll, and Vitamins A, E and B. Its benefits include providing protection against a variety of cancers, facilitating the body? antibody production to fight infection protection against ulcers, and provides iron and sulphur which help cleanse the digestion.
Directions
1. Peel off outer leaves of cabbage. Discard any rough, fibrous leaves. Take the first 8-12 larger leaves and blanch in boiling vinegar water with 1 tbsp sea salt for 7-8 minutes. Scoop out of the water and set aside.
2. Shred remaining cabbage. In a heavy bottomed sauce pan, heat ?cup butter until it starts to brown. Add 2 cups of shredded cabbage and stew for approximately 10 minutes, stirring constantly.
3. Add sliced sweet onion. Stew 15 minutes, stirring.
4. Add 1/3 cup dry millet and 1 1/3 cups water. Bring to a boil. Reduce heat and simmer, covered, until all liquid has been absorbed.
5. Peel shallots and roast in olive oil in oven for 18-20 minutes at 375 °F, until golden brown.
6. Roughly chop roasted shallots, fresh sage, 1 tsp sea salt and pepper, and combine with millet cabbage stew.
7. Cut cheese into sticks (approximately 2 inches long).
8. Cut out stem at the base of each blanched cabbage leaf, to make leaf easier to roll. Place one cheese stick and approx 3 heaping tablespoons of millet cabbage stew across the top of the leaf. Fold sides in, and roll up leaf tightly. Place in baking dish. Repeat with all leaves. Bake at 375° for 20 minutes.
9. Prior to serving, brown remaining butter and poor over top of cabbage rolls.
Serves 6-8