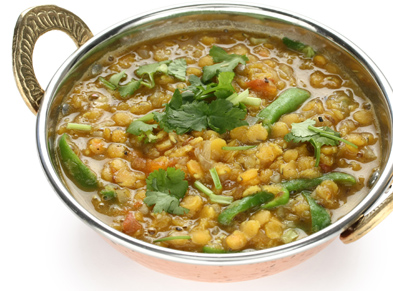 Lentils are a very good source of cholesterol-lowering fibre. Not only do lentils help lower cholesterol, they are of special benefit in managing blood-sugar disorders since their high fibre content prevents blood sugar levels from rising rapidly after a meal.
Directions
– Combine water, all the split peas and lentils (yellow, orange, green) along with turmeric, eggplant, salt and chili peppers.
– Bring to a boil.
– In a separate pot melt butter, add onions, cumin, mustard seed and garlic. Cook until the onions become caramelized.
– Add to the lentils.
– Keep on cooking until it comes to a thick base, consistently beating to crush up lentils to form a nice thick soup.
– Cooking time is approximately one hour.
Serve over rice.