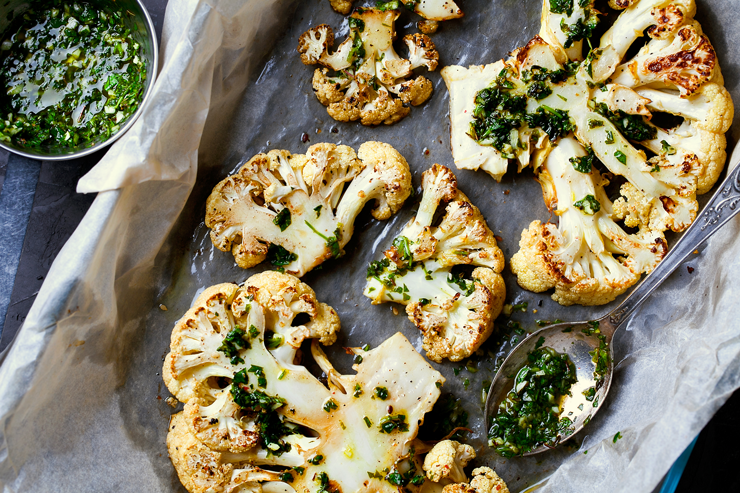 Directions
Preheat the oven to 425ºF.
Remove the green leaves from the head of cauliflower and cut off any excess stem.
Cut the cauliflower into one inch thick 'steaks', right through the center of the stem. You should be able to get 3 steaks per large head of cauliflower. Feel free to use any remaining pieces of cauliflower.
Arrange the cauliflower steaks on a baking sheet lined with parchment paper and if using oil, drizzle them lightly with oil both sides.
Roast the cauliflower in the oven for 15 minutes. Once the timer goes off, use a spatula to flip over each steak, and then return the oven for another 15 minutes. The steaks should be lightly browned on both sides.
Using a food processor, combine the garlic, parsley, cilantro, and turmeric and process until finely minced. Add the miso, coriander, cumin, paprika ginger, cayenne, lemon juice, and water. Process until smooth and set aside.
Remove the roasted cauliflower from the oven, transfer it to shallow serving platter, and top with the sauce. Serve hot. Can be served over quinoa or brown, red, or black rice for an amazing meal.