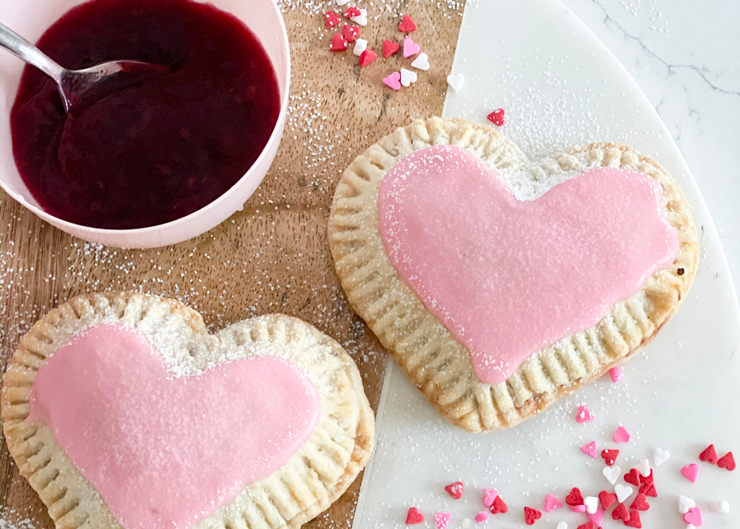 Directions
Preheat oven to 400*F. Line baking sheet with parchment paper.
In a bowl add flour and use hands to crumble coconut oil until mixture resembles chunky sand.
Gradually add ice cold water until mixture forms a dough. Refrigerate dough for 20 mins.
On a floured surface, knead dough for about 1 minute, then roll into a rectangle with 1/4″ thickness.
Cut heart shapes out of dough and set aside until all dough is used up.
Moisten the edges of one heart and place another heart ontop. Using a spoon, leave a section of the heart unsealed to create a pocket for the jam filling.
Crimp the edges well with a fork, then fill the pie with 1-2 tsps of jam.
Place pie on surface and crimp remaining portion closed.
Place all pies onto baking sheet and brush with plant milk.
Bake for about 20 minutes or until nice and golden.
In another bowl, mix icing sugar, 1 tsp of jam and 1 tbsp of water until mixture is smooth. If too runny, add more icing sugar.
Wait until pies are cool before adding glaze or glaze will run.
Store in an airtight container.
This recipe courtesy The Cake Mama, visit her site for more great recipes!