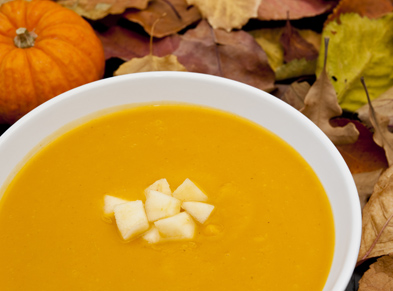 A rich ginger-based soup full of nutrients. Modern scientific research has revealed that ginger possesses numerous therapeutic properties including antioxidant effects, an ability to inhibit the formation of inflammatory compounds, and direct anti-inflammatory effects. Stir in a bit of cream to increase richness!
Directions
– Boil the yams for 10 – 20 minutes in their jacket until the skin is peeling away.
– Drain and cool, the skins should slip right off. Chop yams.
– In a large pot with a solid base, start the onions cooking in the butter or oil on low heat.
– Sprinkle 2 tsp of salt over the onions, stirring it in. You now have about 10 – 15 minutes to assemble the spices.
For the Fun Method, you will need a mortar and pestle, or equipment that can practically imitate them.
– First throw the garlic into the mortar, sprinkling 1 tsp of salt over it.
– Give a few preliminary mashes with the pestle to work it in – you're just getting warmed up.
– Next, add the ginger and continue mashing – adding the spices one at a time in the following order: Mash the cinnamon, allspice, anise, mint, then cumin.
– Continue mashing until you have a paste.
– Add the mashed paste to the onions and cook stirring well for about 10 minutes.
For the Not So Fun Method, add the spices to the onions when the onions are soft.
– Stir in the lemon juice
– Pour the water or vegetable stock into the soup pot, turn the heat to high
– Add pumpkin, potatoes, and yams – bring to a boil.
– Reduce heat and simmer for 10 – 15 minutes, or until all the vegetables are well done – it does well if they are breaking apart.
– Turn off heat and ladle soup into blender or food processor to puree transferring the puree into another pot.
– To add richness, stir in cream.