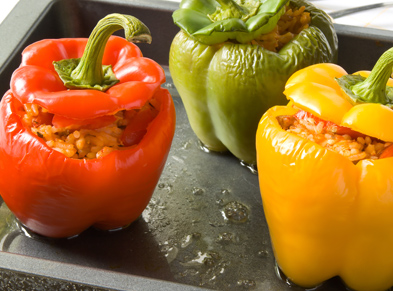 While eggplants are still in season, try this vegetarian dish created by Choices' Executive Chef, Antonio Cerullo. Recent studies have shown a cholesterol-lowering effect when consuming eggplants. High in fibre and potassium, it's a nice way to apologize to your body for all the summer barbecues.
Directions
1. Preheat oven to 425°F. Pierce eggplant with fork repeatedly, and roast in oven for 25 minutes or until completely soft. Remove from the oven, and once it has cooled, peel and dice.
2. In a small pot, bring two cups of water to a boil with vinegar.
3. Slice up peppers; if small slice in half, if large, slice in quarters. Drop peppers into boiling water and blanch for 40 seconds. Drain and place on baking sheet.
4. In a frying pan, heat oil on medium-high heat, brown celery.
5. Add garlic, eggplant, salt and pepper to taste. Sauté 4–5 minutes and add lemon juice, mint, green onion and tomatoes.
6. Remove from heat and fill peppers with spoonfuls of the eggplant mixture.
7. Return to 425°F oven for 15 minutes. Serve hot or cold. Variation: Add 1/2 cup of crumbled feta or parmesan if desired
Serves 4 as a main dish. Serves 8 as an appetizer.