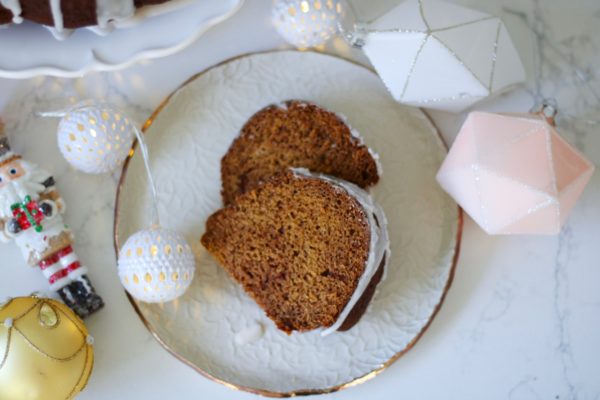 Directions
Photo and recipe courtesy of the Cake Mama. Visit her website here!
Cake
Preheat oven to 350ºF. Lightly coat a bundt cake pan with cooking spray.
In a bowl, combine sugars and coconut oil and mix until combined.
Measure holiday nog in a measuring cup and add apple cider vinegar, mix and allow to sit for 3-5 mins.
Open and empty the contents of one can of pumpkin pie mix to the sugar and oil.
In separate bowl, mix spices, flour, baking powder and soda.
Alternately add the dry ingredients and holiday nog mixture to the pumpkin mixture until well combined. Do not over mix.
Pour batter into greased bundt pan and bake for 40-50 mins or until tester knife has a soft crumb.
Remove from oven and allow to cool in pan for 10 minutes. Invert cake from pan and allow to cool completely, then cover to retain moisture.
Glaze
In a small bowl mix icing sugar, nog and nutmeg until a smooth glaze is formed.
Once cake is cooled, drizzle over cake.
Slice, serve and enjoy!