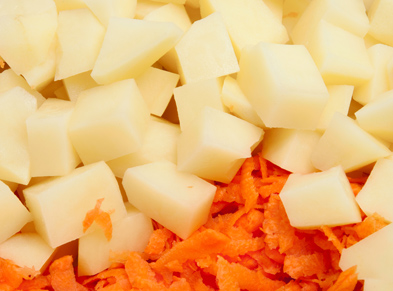 This recipe is my answer to the often-asked question "what can I make for lunch?". Most people nearly always have the same basic mix of carrots, onions, and celery in the refrigerator. To these, simply add whatever else you have in the way of vegetables such as yams, sweet potatoes, or bell peppers. This hash makes an excellent side dish or light lunch. Cook the hash, then top it with thick slices of aged cheddar cheese and broil until the cheese is melted and golden in colour, about 5 - 6 minutes.
Directions
– Preheat the oven to 375° F.
– Peel and cut potatoes, onion, celery, carrots, and fennel (optional) into roughly 1 inch cubes.
– Pat potato cubes dry with a paper towel.
– Heat vegetable oil in a large frying pan on medium-high heat.
– Sauté potatoes until they start to brown, about 10 minutes.
– Add onion, celery, carrots, and fennel.
– Continue to sauté for another five minutes.
– Season to taste with salt and pepper.
– Transfer to a roasting pan and bake until done, about 20 minutes.
– Garnish with chopped parsley and serve hot.