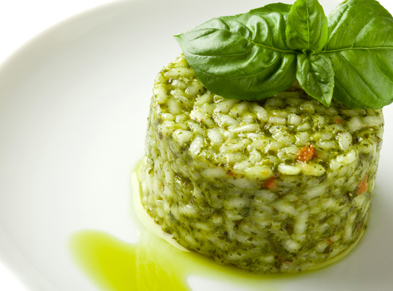 It's time to get together with friends and family and enjoy an August dinner with this high-fibre dish created by Choices' Chef, Antonio Cerullo. A perfect dish to enjoy outdoors as the summer of 2008 comes to an end.
Directions
Roast pepper on open flame BBQ or in 450 degree oven until skin has completely browned. While still hot, put aside in a bowl, cover with a plate and let sit for 15 minutes. When cooled peel and remove seeds.
In a food processor combine yellow pepper, fresh arugula, garlic, olive oil, walnuts (if desired) and black pepper. Remove the mixture from the processor and put in a bowl. Stir in the parmesan cheese.
Bring 2 1/2 cups water and 1 cup of brown rice to a boil. Once it boils stir in the salt. Simmer for approximately 45 – 50 mins or follow instructions on rice package. Mix hot rice with pesto and diced tomatoes. For a cold rice dish, allow rice to cool before mixing with pesto. Serves 6.
Pesto can also be used to dress pasta, top fresh canopes or as a tasty mayo.