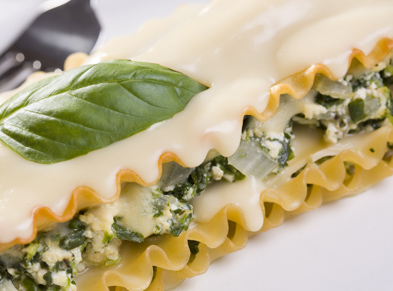 A vegetarian lasagna using fresh, crisp vegetables. The recipe is high in iron and protein thanks to the benefits of soy.
Directions
– Slice the extra firm tofu into thin slices to use as lasagna noodles and set aside.
– Place the red pepper, yellow pepper, eggplant, zucchini, onion, and garlic in a roasting pan and brush with olive oil.
– Roast in the oven at 350° F for about 15 minutes. Vegetables should be soft.
– Mix together the tomato sauce, oregano, basil and mushrooms.
– Mix together the spinach with the ricotta cheese or medium tofu.
– In a lasagna pan (9″ x 13″), spread a thin layer of tomato sauce on the bottom.
– Start layering the lasagna with one layer of the tofu noodles, then tomato sauce to cover the tofu. Then follow with succeeding layers of the spinach mixture, eggplant, mozzarella, roasted vegetable mixture, tofu noodles, tomato sauce, spinach mixture, eggplant
– Cover the top completely with the mozzarella.
– Sprinkle with parmesan cheese if desired.
– Bake at 350° F for 45 minutes to 1 hour, or until the cheese is bubbling and brown.
– Serve with green salad.