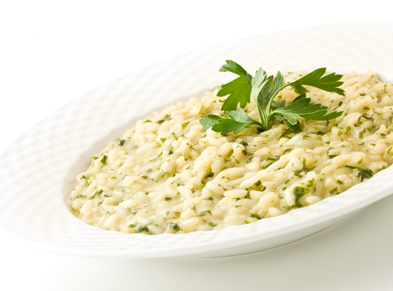 Enjoy another delicious recipe featured in Choices' new cookbook, A Local Table, by our Executive Chef, Antonio Cerullo.
Directions
Note: when making a risotto it is important to continually stir mixture.
1. Over medium heat in a large heavy-bottomed soup pot, heat 1 tbsp olive oil then brown onions.
2. Add in chili flakes, kale and collard green stems and cook for 15 minutes. Add quinoa, cooking for 5 more minutes. Then mix in collard leaves and cook for 5-8 minutes more.
3. Turn heat to medium-low and slowly begin to ladle in half of the hot stock 1/4 cup at a time. After adding each ladle of stock, stir mixture until liquid has been partially absorbed, about 5 minutes per 1/4 cup. When half of the
stock has been added, stir in beans. Continue to ladle in remaining hot stock, 1/4 cup at a time.
4. When stock is absorbed and quinoa feels tender but not mushy, turn heat off and add remaining olive oil, shredded cheese, salt and parsley. Stir well and allow to rest 5-10 minutes before serving.
Serves 4