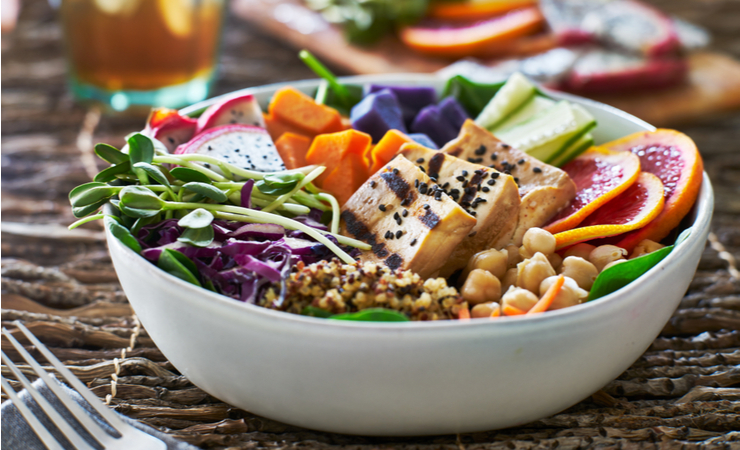 Directions
1. Preheat oven to 425 degrees F
2. Slice yam into desired shapes (wedges or rounds). Arrange on a parchment paper lined baking tray and lightly drizzle with extra virgin olive oil (or low sodium vegetable broth if using). Bake for 15-20 minutes (or until tender), flipping half way through.
3. Cut the tofu into desired shapes (triangles or cubes) and toss with soy sauce and garlic powder. Place on parchment paper lined baking tray and bake for 20 minutes, flipping halfway through. Note: To save time, you can bake yams and tofu at the same time on the same tray.
4. Add one inch of water to a medium pot and bring to a boil. Add the broccoli florets and cook for 3-4 minutes.
5. To make the Tahini Sauce: Add the tahini, minced garlic, lemon juice, water, salt, and maple syrup (if using) to a medium-sized bowl. Whisk all ingredients together until a creamy consistency is reached. Alternatively, use a small food processor.
6. Assemble your Buddha bowl by adding all of the ingredients to a bowl, starting with the leafy greens. Once assembled, drizzle with the tahini sauce.
7. Optional: Garnish with fresh parsley. Replace tofu with other protein sources, such as salmon or beans. Use any fresh vegetables you have on hand. Sprinkle with pumpkin seeds or almond slices.