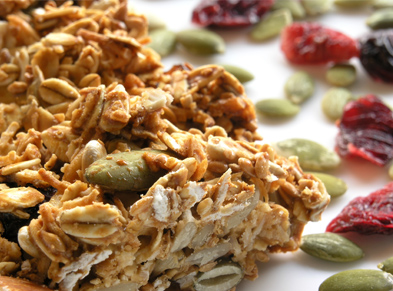 These delicious bars are from the book Staying Alive! A Cook Book for Cancer Free Living. They are easy to make and taste great!
Directions
Heat oven to 350° F (180° C).
Filling:
– combine cranberries, dried fruits, honey and apple juice in a medium saucepan.
– Bring to a boil over medium heat.
– Stir until the mixture thickens and the cranberries pop (about 5 to 10 minutes).
Base:
– In a large bowl mix together all of the base ingredients, blending in the coconut butter with the tips of your fingers.
– The mix should look like moist crumbs. Set aside 1½ cups of this mix for the topping.
– Grease a 9"x 13" baking pan, and press the crumb mixture into the base.
– Bake at 350° F (180° C) for 15 minutes.
– Remove the base from the oven.
– Spread the cranberry mix over it and cover with the remaining 1½ cups of topping mixture.
– Bake for another 30 minutes.
– Allow to cool before serving.
Makes 12 bars
Recipe taken from "Staying Alive! A Cook Book for Cancer Free Living" by Sally Errey, RNCP. Copyright 2004. Published by Bellissimo Books, Vancouver, BC.
For more information on nutrition for cancer prevention or management, visit Sally's website at www.myhappytummy.com or email her at happytummy@shaw.ca.