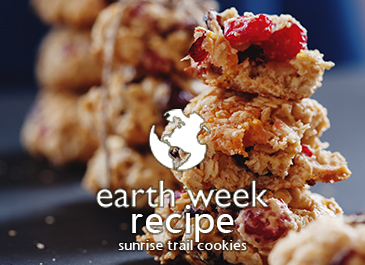 Directions
Adding soft tofu to a cookie batter makes it more moist and will give the
finished product a bit of a healthy plant-based protein boost. The great thing
about this recipe is that you can play around with different ingredients like
seeds and spices and make a different batch of cookies each time.
Makes 15 cookies
1. Preheat oven to 400°F. Grease a baking sheet or line with parchment paper
and set aside.
2. In a medium bowl, mix together flour, wheat germ, baking soda, salt and
cinnamon. Set aside.
3. Cream butter and sugar together. Mix in tofu until combined.
4. Gently stir half of the flour mixture in with the tofu mixture. Stir in all of the
rolled oats but only half of each the raisins, chocolate chips and flax seeds.
Once the ingredients are wet, mix in the remaining flour then add what's
left of the raisins, chocolate chips and flax seeds. Wet all ingredients but do
not overmix.
5. Drop rounded spoonfuls of the mix onto the cookie sheet, pressing down
lightly. Bake for 10 to 15 minutes.