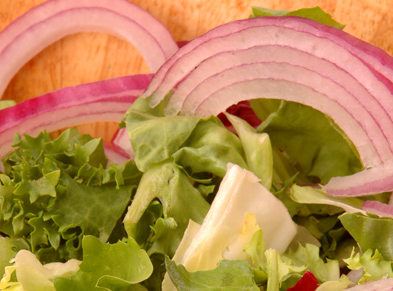 As featured in Choices' Cookbook, A Local Table, by Choices' Executive Chef, Antonio Cerullo.
Directions
1. Place escarole endive in a large salad bowl and set aside.
2. To make the warm dressing, heat oil in a large frying pan over medium heat and add onions.
3. When onions start to brown, add prunes, almonds and continue to sauté for 7–10 minutes. Mix in Omega Nutrition Apple Cider Vinegar and Balsamic Vinegar, thyme and apples. Let it all come to a rapid simmer.
4. While dressing is still simmering, pour over escarole endive and toss. Add salt to taste.
Serves 6