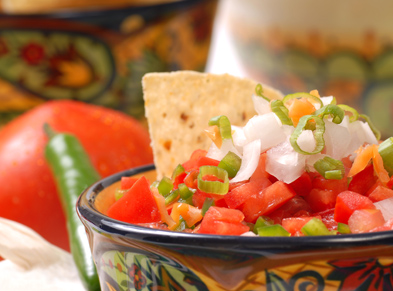 This recipe is a great way to make use of the abundance of delicious local tomatoes available this month. Look for "heirloom varieties" that come in an assortment of odd shapes and sizes. These tomatoes often have the best flavour.
Directions
– Put vegetables on a sheet pan in a 500º F oven or on the grill over medium heat.
– Cook until charred and blistered; about 30 minutes in the oven, less on the grill.
– After cooking, core, but don't peel the tomatoes.
– Peel, stem and seed the peppers.
– Remove the skins from the onion and garlic.
– Puree the onion and garlic, but not too smooth.
– Add tomatoes and peppers and pulse until you achieve the desired texture.
– Pour into a bowl; add cilantro, salt and pepper.
Serve warm or chilled.