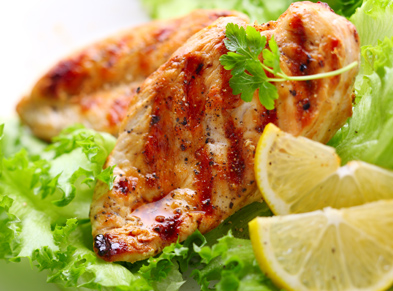 Chef Antonio is at it again with this protein-rich recipe featuring fresh artichokes, an excellent source of fibre and vitamin C, and have been shown to lower cholesterol. Better yet, Elements4Health points out: "The carbohydrate in artichokes is in the form of inulin, which has been shown to stabilize blood sugar levels in diabetics. (The artichokes must be fresh, as the inulin will eventually convert to other sugars as the artichoke ages)".
* Source: www.elements4health.com/the-heart-of-an-artichoke.html
Directions
1. Snip off the pointy ends of the leaves, cut off the very top of each artichoke and remove all beard (fuzz).
2. To keep the artichokes from browning, place in water with a splash of lemon juice or vinegar. Set aside.
3. Heat oil in frying pan on medium high heat. Salt chicken on both sides and place in the hot pan, outside of breast facing down. Brown for approximately 10 minutes.
4. After draining all excess water from the artichokes, finely slice lengthwise and add to frying pan.
5. Turn chicken and beside it add lemon juice, parsley, rosemary and garlic. Mix well.
6. Add water/stock to the pan. Cover, let simmer until most of the juices have evaporated, approximately 12-15 minutes, depending on the size of chicken breast.
7. Serve with steamed brown rice or whole grain of choice.
Serves 4