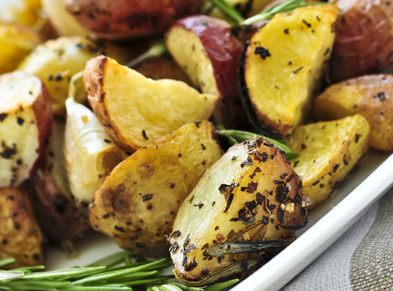 Now that winter is here, it is time to stock up on this nutritious vegetable. Not only are potatoes high in fibre, but they are also an excellent source of Vitamin C, potassium, iron, Vitamin B6 and many other trace vitamins and minerals!
Directions
Mix all ingredients except potatoes with half of the olive oil.
Mix remaining oil with potatoes and bake in preheated 425 F oven for 20 minutes.
Remove potatoes from oven and mix with reserved oil and all remaining ingredients.
Return to oven for 20 minutes or until golden brown.
Serve hot with your favourite main dish.
Serves six healthy sides.
There are many delicious ways to prepare fresh local potatoes. To
learn about the different varieties available and how to use them,
sign up for Antonio? cooking class this month, Monday, Feb. 25,
7:00-9:00pm. Please see the event calendar in this newsletter for
cost and registration information.