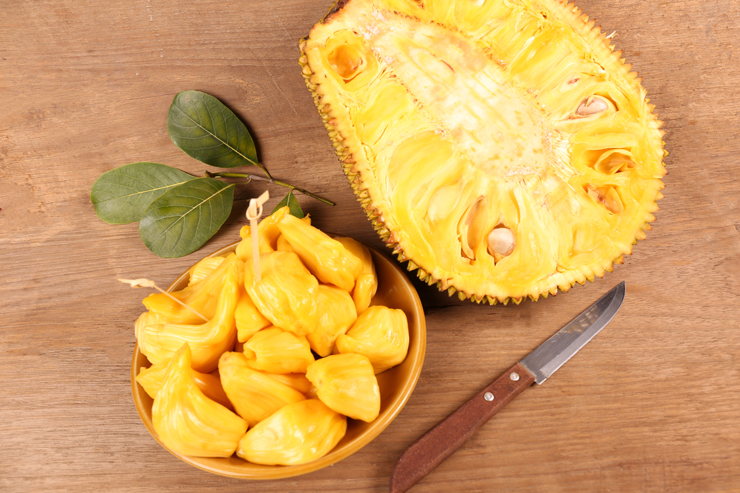 By Choices Holistic Nutritionist Elizabeth Whalley, RHN
Directions
Have you heard about jackfruit? Its rising popularity as a vegan meat substitute is creating a lot of buzz in recent months. So, what's so special about it?
Jackfruit grows in South Asia, and is the largest tree-growing fruit in the world (up to 40 pounds!) It's from the same fruit family as mulberry, and is a great source of protein, fibre, potassium and vitamin C.
Depending on how ripe jackfruit is, you will see it used in both sweet and savory recipes. It has been compared to tasting like artichokes or green bananas when it is slightly ripe and when it ripens it begins to taste more like pineapple. It will change in colour from light green to yellow as it ripens.
Jackfruit's current claim to fame is as a great vegan substitute for pulled pork. To start, get some fresh or water canned young jackfruit, cut it up and toss it with some of your favourite BBQ spices, give it a nice sauté, then toss it in your favourite BBQ sauce and enjoy!
Give this salad recipe a try:
If using fresh jackfruit, rinse jackfruit under cold water. In a small slow cooker, cover with water and cook on low for about 4 hours. After 4 hours, remove from slow cooker and gently break up the fruit with a fork – it should be stringy and come apart easily. Dry off by blotting with a paper towel.
In a large drying pan, heat oil over medium heat. Add garlic and ginger and sauté for about a minute. Then add jackfruit and 1 tbsp tamari and sauté for another 2 minutes and remove from heat.
In a large bowl, add remaining tamari, sesame oil, syrup, chili sauce and lime juice and whisk well. Add the cooled jackfruit along with mint, cilantro, onion and red pepper and toss until well combined.
Serve topped with the toasted sesame seeds and a lime wedge.