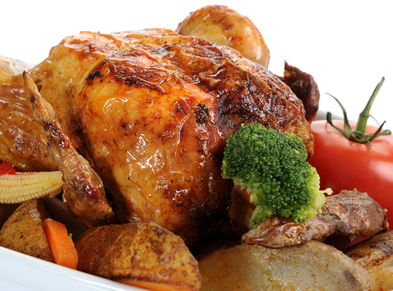 Here's our third recipe from Choices' new cookbook, A Local Table, by our Executive Chef, Antonio Cerullo. Remember, eating local has a direct impact on the environment. By purchasing foods grown closer to home, you reduce the distance that foods have to travel to your table. Your choice also benefits the community by supporting local farmers and food producers.
Directions
1. Preheat oven to 410°F.
2. Over medium-high burner, heat oil in large skillet and place Farmcrest chicken pieces skin down, browning all sides very well.
3. Add potatoes and garlic and continue cooking and stirring until chicken skin is completely golden.
4. Add peppers and continue stirring. Sprinkle in salt and pepper then add fresh oregano whole on the stem.
5. Place all items into a large baking/roasting dish.
6. Removing the skillet from the burner, take the red wine, pour it into the hot skillet and let it simmer for a second or two to lift off any remaining brown bits. Pour the mixture over the chicken and vegetables. (The browned bits that come off of the pan will add incredible flavour to the finished product.)
7. Place baking/roasting dish in the oven uncovered and bake for 35 minutes, stirring every 10-15 minutes.