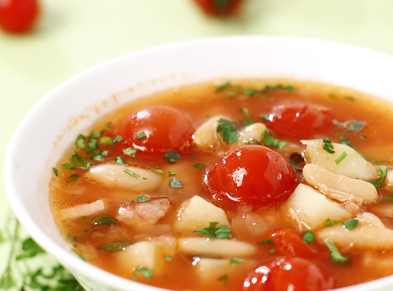 This vegetarian recipe makes use of a variety of vegetables available in the fall. It freezes well, providing a convenient way to increase your family's intake of highly nutritious vegetables.
Directions
Wash and cut vegetables in approximately 1″ pieces. (Organic vegetables do not need to be peeled first.) In a large heavy bottomed pot, put 3 tbsp of extra virgin olive oil and sweat the chopped leek on low heat. When translucent add chopped cabbage and continue stirring.
In a large bowl mix the remaining oil, brown sugar, some salt and pepper and all remaining vegetables except tomatoes. Spread out on a baking sheet and put in 450°F oven for 25 mins., mixing 2 or 3 times during roasting.
Add cut and cored tomatoes (or cans) to cabbage which is now cooking with leek.
Add vinegar and cinnamon and all roasted vegetables. Top with liquid. Stew on low heat stirring often until desired texture is achieved. Add chopped fresh dill, check seasoning and add salt and pepper to taste.
This can be served when ready, but will also freeze well. Serves well with steamed rice or other grains (barley, Kamut etc) Recipe can easily be altered by choosing readily available seasonal fresh vegetables.