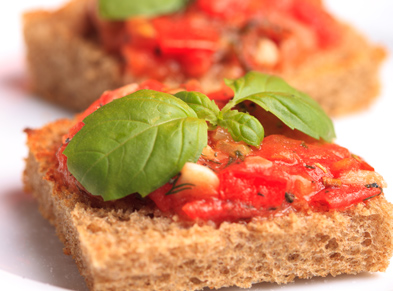 This combination of maple salmon, tomatoes and goat cheese makes an unbelievably delicious appetizer for any occasion while providing many essential nutrients. The tomatoes provide vitamin C and lycopene while the salmon is a good source of protein, B vitamins, vitamin A and omega 3 fatty acids.
Directions
1. Cut 3 of the tomatoes in half and roast at 375° F for 1.5 hours.
2. In a food processor combine goat cheese, grated lemon rind, maple salmon nuggets, 1 tbsp of chopped tarragon and juice of 1/2 lemon and process until smooth.
3. Cube the remaining raw tomato and the roasted tomatoes. Combine in a bowl with juice from 1/2 lemon, 1 tbsp chopped tarragon, salt and oil.
4. Serve on your favorite baguette sliced on a bias. Spread cheese salmon mixture first and top with salsa.
Serves 8 as an appetizer.