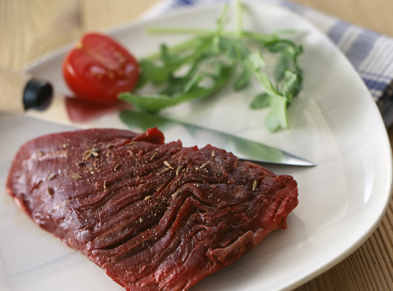 Satisfy your taste buds with this protein-rich recipe from our Executive Chef, Antonio Cerullo, and featured in our cookbook, A Local Table.
Directions
1. Setting aside steak, mix all other ingredients together to make a marinade.
2. Lay steak in a long glass dish and pour marinade on top. Flip steak over to coat both sides with marinade. Cover, and refrigerate.
3. Allow steak to marinate for minimum of 24 hours and maximum of 3 days, flipping every 12 hours.
4. To cook steak, either heat the barbeque on high or heat a cast iron skillet over high heat.
5. Taking care not to over cook, baste then sear each side of steak until nicely browned or until medium rare. Depending on the size and thickness of steak cooking times may vary.
6. Slice thinly on a 45° angle then serve with your favorite leaf salad. Also delicious cold!
Serves approximately 1 person per 1/4 lb (125 grams) of flank.