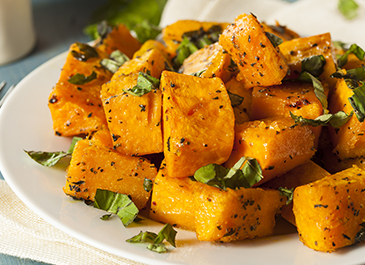 Directions
Preheat oven to 350 degrees and line a large baking sheet with a silpat liner or parchment paper lightly sprayed with cooking oil.
Heat oil in a large 3 quart skillet over medium heat. Sauté butternut squash, season with salt and pepper and cook for a good 5 minutes, stirring often to brown the squash.
Transfer partially cooked butternut squash to prepared baking sheet. Bake for 15 minutes or until fork tender. Remove from oven and add fresh chopped thyme leave and then drizzle with honey. Gently toss to coat evenly and serve warm.
Makes 6 servings.