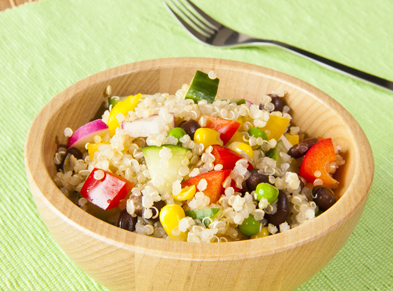 Earth Balance Olive Oil Spread is perfect for cooking, as it adds the distinctive flavour of fine extra virgin olive oil to all your sautéeed favourites. Simply use right from the tub for a convenient way to infuse flavour into any recipe that calls for traditional olive oil.
Recipe courtesy of Earth Balance
Directions
Bring water or broth to a boil in a medium saucepan then add quinoa and salt. Cover and reduce heat to low and simmer 15 to 20 minutes until quinoa is tender and translucent. Drain and set aside. Heat a large pan over medium heat. Add Earth Balance Olive Oil Spread, garlic and onion and sautée 5 to 6 minutes, until onion softens. Add corn, peppers, beans, cumin and chile powder and continue cooking 5 to 6 minutes. Adjust seasonings to taste. Stir in quinoa and cook until heated through. Divide between 4 to 6 plates and serve warm drizzled with cilantro vinaigrette.
Serves 4 to 6