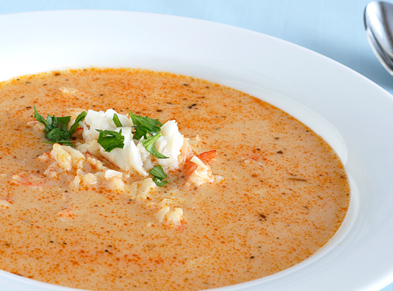 With a rare white Christmas enjoyed by all in British Columbia, we have the perfect recipe to help warm you up. Created by Chef Antonio, there's no better way to bring in the new year.
Directions
1. In a stock pot cover bones and leftover gravy with cold water
2. Add 1 whole carrot,1 celery stalk, half the onion, the green part of the leek
(previously washed) the stems from the cilantro and the peppercorns
3. Bring to a rapid boil and simmer for 45 minutes
4. Strain stock, degrease and reduce to approximately 3 litres
5. In a soup pot add coconut oil, diced onion, diced celery, diced carrot and diced leek. Brown on medium heat
6. Add lime juice, white wine and simmer for 10 minutes
7. Add stock and bring to a boil
8. Add potatoes
9. When potatoes are cooked add corn, peas and turkey meat
10. Bring to a boil add coconut milk and cilantro
11. Adjust seasonings to taste
12. Enjoy!