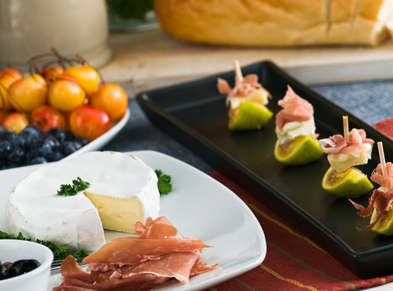 As featured in our cookbook, A Local Table. This is the first cookbook of its kind to create recipes around each of the four seasons, showcasing the foods available to cooks in the Lower Mainland and the Okanagan. For more information, please click here.
Directions
1) Preheat oven to 400°F (205°C).
2) To make the compote, in a small saucepan bring to a boil balsamic vinegar and L.B.Maple Treat Maple Syrup.
3) Reduce heat and add figs. Let simmer for five minutes then remove from heat. Consistency of compote should resemble that of honey.
4) Divide cheese in half to make two wheels. Place on non-stick baking sheet with the cheese rind down.
5) Divide fig compote evenly each cheese wheel then bake for approximately six minutes or until cheese begins to melt. Serve hot with crusty baguettes or your favourite bread.