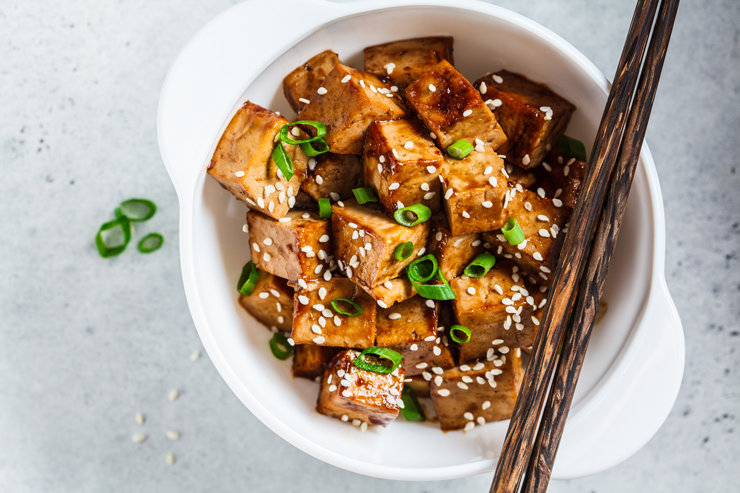 Directions
1. Remove the tofu from the package and press to remove excess fluid. To press tofu, wrap the tofu in a kitchen towel or paper towels and sit on a plate with something heavy over the top, like a small casserole dish or jar. You can also use a tofu press.
2. While the tofu is pressing, add all ingredients to a small bowl and whisk until well combined. Transfer this marinade to a medium-sized rectangular glass container or pan.
3. Cut the tofu into 1/2″ cubes or triangles and place in the pan with the marinade. Stir everything together gently so that the tofu absorbs the marinade. Allow the tofu to marinade for at least 30 minutes or up to an hour.
4. Preheat the oven to 425 F.
5. Arrange tofu cubes on parchment paper. Brush the tofu with remaining marinade. Bake for 10 minutes.
6. You can store cooked tofu in an airtight container in the fridge for up to 4 days. Tofu changes its consistency when frozen, so it is not recommended to freeze this recipe.
7. To serve, add tofu to any meal! You can add it to a rice bowl, vegetable wrap, sandwich, salad, or enjoy on its own!
Get inspired with other tofu recipes ideas: